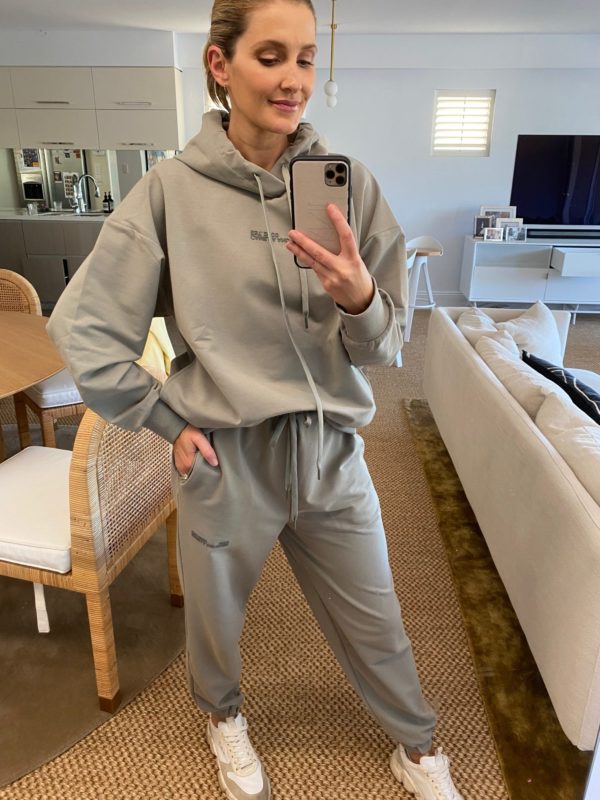 Who could've predicted that tracksuits would become a bonafide fashion trend? I've obviously always loved trackies for wearing at home but these days it's had a glow up that sees it being worn in an elevated way. Yes, elevated! It can be hard to think of a tracksuit being anything other than something to lounge around in but trust me when I say that you can absolutely get away with wearing it out and about. It's just about choosing the right kind of style and pairing it with pieces that can turn it into something a bit more fashion-ey. So, what are some things to keep in mind?
Match it up
When looking for tracksuits go for a matching set. Nothing says polished like co-ordination so opt for a jumper and pants that go together. I've favoured hues like grey, beige, grey and khaki when it comes to the tracksuits I've been wearing of late, but you can totally embrace more vibrant colours. In particular I think pastel hues look great and are wonderful for adding some colour to a look.
Accessorise
You can accessorise tracksuits with some of the more polished pieces in your closet and you have yourself a truly stylish (and ridiculously comfy) look! Popping a trench over a tracksuit is a quick shortcut to looking stylish, and don't be afraid to throw on a great statement bag or accessorise with jewellery.
Go for sneakers or sandals
You can go for two options with tracksuits and I think that's a pair of white sneakers and dad sandals. The chunky vibe of both these types of footwear works well with the more casual silhouette of a tracksuit and offers a grounding element to the look.
Opt for a relaxed fit
The beauty of a tracksuit is its designed to be comfortable so go for a relaxed silhouette. You don't want anything skin tight, think a little oversized when it comes to choosing a style.
Look at the detail
Yes, tracksuits these days most definitely come with a little extra detail. For example a quarter zip style neckline looks so on trend, while subtle logos are also very much in keeping with what's currently in vogue.